About Nature Nooks Retreat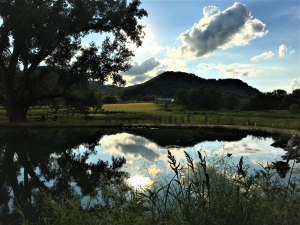 Nature Nooks Retreat is our way of sharing our love of the outdoors and the critters that inhabit it. We never tire of floating the West Fork through our property, looking and listening for wildlife. Hearing a deer whistle, a bald eagle's screech, an owl's hoot, the yipping of a pack of coyotes, or seeing a turtle slide into the water, a trout jump or a mink on the hunt are all pure joys – and we want to share it all with you!
We always honor our guests' quiet and privacy. At the same time, we'd be delighted to take a float with you, or show you around our current projects: a new section of planted prairie, creation of a wetland and a goat prairie, and streambank protection and habitat restoration.
There's always something happening here, and we especially love knowing that we have helped to nurture interest in the natural world for the kids who visit.
Our careers spanned trail contracting, tree planting, horticulture, dairy farming and the organic industry. As board chair of Valley Stewardship Network, a local watershed group, Tom is very involved in citizen science water quality & habitat monitoring as well as land use practices which affect water quality and habitat integrity.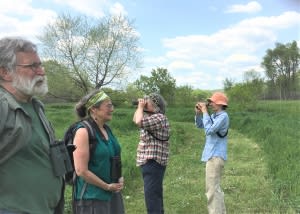 Check out our new blog, NNR Journal, where we'll keep our visitors - actual, potential and virtual - updated on what goes on here. We believe that what one loves is enhanced by the act of sharing and we welcome the opportunity to share with you!
Tom & Pam
Frequently Asked Questions
Is Nature Nooks Retreat suitable for children?
Emphatically YES! We have a few indoor toys and outdoor activity equipment, along with a few nature-themed DVDs, but the big draw is the big outdoors!
Anyone under the age of 21 must be accompanied by a parent or legal guardian.
How far is the river from the cabins?
The West Fork of the Kickapoo is a short walk from any of the facilities, just 50 - 150 hundred yards. The mowed trails offer lovely walks along the river, the prairie, and wetlands. We have a dozen 10 ft. sit-on-top kayaks and several tubes for your use on this stretch of the river. You can put in on our property, paddle upstream a ways, then down, take out on our property, and then take the short hike back. We pull the kayaks back so you can do it all over again!
How's the fishing?
This section of the West Fork of the Kickapoo is considered Class I for trout fishing. Some folks stay right here and enjoy the fishing, others use it as base camp and visit other streams in the area. You'll need a Wisconsin fishing license, of course, and we only allow catch-and-release, with barbless hooks.
How private are the facilities?
The Little Barn Cabin is off by itself, about 100 yards from the other buildings, with its own fire circle and private views of the river.
The Lodge and Kinship Place are within the same large building, but are separated by a shared rec room. Each has its own deck, gas grill and fire pit, and are visually separated for your privacy.
What do we need to bring?
All linens – bed, bath and kitchen - are provided, as well as paper products. Bath soap, shampoo, dish detergent all are provided, green products, of course. The kitchens all have full-size refrigerators, stoves, ovens and microwaves, as well as the basic equipment, including coffee grinders (and organic shade-grown coffee beans), pots and pans, toaster, serving dishes, etc. You don't need to bring salt and pepper, sugar for coffee, and we have a selection of teas. But you do need to bring or buy the rest of your food.
Please do not bring firewood – we provide it, both for indoor woodstoves and for fire circles.
Is there daily maid service?
No, these are housekeeping facilities. The Lodge and Little Barn Cabin both have laundry facilities, which you are welcome to use. Let us know if there is something that needs attention.
What if the weather is lousy?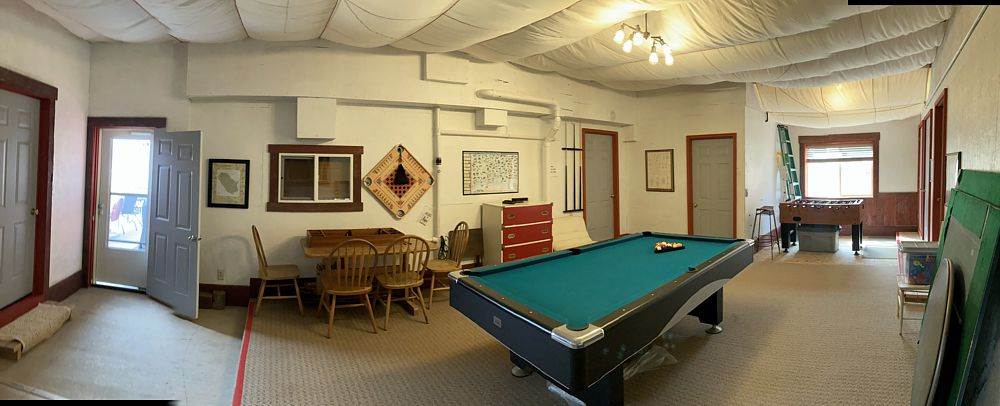 Check out our newly updated rec room! It's a light, airy space that sits between the Lodge and Kinship Place, where you can hang out on rainy days, or in the evenings, to play pool, ping pong, darts, foosball, skittles, carrom, etc.
All facilities have high speed internet, suitable for streaming. The Lodge and Little Barn Cabin each has a Blu-ray DVD player and a small library of DVDs. There is no network or cable TV reception. Both have an eclectic selection of books you are invited to start and take home with you, as well as nature-themed reading materials. Both have games, cards, puzzles and coloring books with pencils, and each has a sound dock for your music. Kinship Place has a great sound system and big screen to project a movie from your laptop, or plug in your iPod. Each cabin has literature on nearby attractions and activities. And who says it's too nasty to go outside, anyway?
How do we secure our reservation?
We take your word, not your credit card number. The full amount is due upon arrival by cash or check.
How's cell and internet service?
We have high speed internet, delivered via fiber, fast enough to stream in all facilities. We have a Verizon cell booster, which works well for cell service in the Lodge and Kinship Place, though some other carriers work OK, too.
Little Barn Cabin has limited cell reception, but you may be able to walk a short distance and get reception.
Remember – it's good to disconnect once in a while!

Do you have cable and network TV reception?

Nope. It really is good to disconnect once in a while!
We have Blu-Ray DVD players and screens in Lodge and Little Barn, and a small library of videos or bring your own DVDs. In Kinship Place, there is a ceiling mounted projector, with a large screen,
With an HDMI cable, you can hook up for streaming. We have a laptop with HDMI cable you can borrow.
Is Nature Nooks Retreat handicap-accessible?
Kinship Place is all on one level, including the entrance, and would work well for someone with limited physical ability, or even a person who is wheel-chair bound.
Little Barn Cabin has a double futon on the first floor, where the bathroom is, and could accommodate someone with moderate limitations.
The Lodge has multiple levels, and might be difficult for some folks with limitations, though we have hosted people using walkers there.
The mowed paths are modestly maintained grass, not paved or graveled.
Why don't you allow pets?
We don't keep pets ourselves, and are committed to maintaining the property free of domestic animals, in favor of the wild critters. We are able to assure our allergic guests that pets have not been in our facilities. We do not make exceptions.
Is there staff on site?
Tom and Pam live right on the property, a short distance from the rental facilities. We greet guests shortly after arrival, and we make sure you are oriented and have your questions answered.
Please don't hesitate to call or email if you haven't found the answer to your questions here!