Cabin Rentals
See our Availability Calendar for open dates.
SORRY, NO PETS
All vacation rentals have access to the following shared facilities:
Kayaks and tubes available at no charge
Large, grassy courtyard for frisbee, badminton, yard games
Access to superb cycling and local parks
Miles of hiking and skiing trails
Catch and release fishing access - barbless hooks, wet hands, no fish out of water
All linens and towels furnished
Firewood provided, so please leave yours at home
High speed internet suitable for streaming in all cabins
Additional assistance and good conversation, if desired, free
---
The Lodge
Whether you have a crew, or it's just you and your sweetie, the Lodge is a perfectly versatile spot. How can a place with 8 beds be cozy? With two bedrooms tucked away and a sleeping loft, that's how. The south-facing living space is absolutely drenched in light, and the deck off the east side draws you down to the open water marsh, with the river close by. Light the woodstove on a cool night, or settle around the campfire and enjoy the star-studded skies.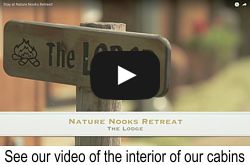 The Lodge Testimonials
Our first time. Our 3 year old soaked up nature!
– T, K, M, &J, Oak Park, IL
Thank you for a wonderful experience in this cabin. We enjoyed grilling, star-gazing, the amazing kayak ride down the river and UP again. We practiced yoga while enjoying the view of the valley and the sounds of the wildlife.
– Reunion of Chicago and Mpls friends
We felt so blessed to find this place. It was more beautiful than we could have imagined and so so peaceful.
– J, R, S, L, M, and H, Jupiter, FL
Favorite memory, came across a turkey hen with a nest full of eggs while walking the path! How exciting it was to see her up close!
– P&J
Lots of great bonding memories here! We hope to make it a new tradition!
– sisters, nieces, cousins from WI, IL and IA
---
Little Barn Cabin (available year-round)
Our Little Barn Cabin's design is compact and efficient, a thoroughly modern space with a rustic feel inside and out. Reclaimed wood and fine craftsmanship throughout make this a truly delightful retreat for a romantic getaway, a family gathering spot, or a small friends' reunion. Decks on both levels offer views of the river, a pond teeming with life, and both sunset and sunrise displays. Our guests fall in love with this place!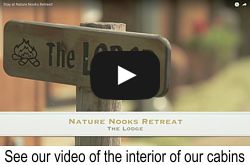 Little Barn Cabin Testimonials
I love waking in the treetops, watching the mist rise as the birds and frogs begin their day.
– SC, Oxford, OH 8.1.2011
The solitude, the peacefulness, and the beauty of nature surround us. The sounds of silence abound! What a wonderful way to celebrate our 50th anniversary!
– P&JD, Midland, MI
Remember to just listen. This is one of those magical places where listening speaks louder than any spoken words.
– S&S K, Madison, WI
Spring is a glorious time to be here. Every bird seems to be rejoicing over the beauty of a new beginning.
– ME
What a hidden gem this place is!
– PA & LK, Madison, WI, on their honeymoon
The profound tranquility of Nature Nooks was a welcome respite. The setting is splendid and the cabin beautifully designed and executed.
– K&TA
We arrived just in time for the morning drift.
Slipping into our kayaks we felt a shift
From daily routines and hurried pace
To the welcoming peace of Nature's embrace.
With evening approaching and Tom as our guide
We met river creatures and learned where they hide.
And lo and behold! What we've been missing:
Acrobatic fish and muskrats French kissing!
– B&J, Madison, WI
Our kayak trip down the quaint Kickapoo was a perfect ending to a perfect anniversary weekend celebration! P.S. The place has great acoustics, and the Bose helped us enjoy our favorite music.
– A&H
Beautiful cabin, perfect family get-away.
– N&M plus 4
Everything's lovely, inside and outside - just delightful!!
– D&A, Madison
WE spent our first two nights as married folks in this beautiful, calming place….this cabin, surrounded as it is by the most breathtaking nature this area has to offer was the perfect balm for our weary minds and bodies.
– C&H
After spending the day biking the Elroy-Sparta trail this warm cabin was a welcome relief. We came after dark and relaxed next to a glowing campfire. We could hear the river below, but were unprepared for the absolute beauty of our surroundings in the morning light.
– A&P, S&A
---
Kinship Place ... a place to help good things happen
Unassuming on the outside, one enters as if through a portal into this timber-framed space that seems to hold the outdoors within. Floor-to-ceiling windows offer big vistas of the restored prairie and the West Fork below. All natural wood interior, expansive yet warm-feeling, Kinship Place is a wonderfully versatile space for a business or family gathering, or for an intimate weekend getaway. It's a place to help good things happen!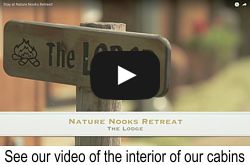 Download our Information for Groups & Business Meetings here
Available year round
Fully equipped kitchen with gas range, dishwasher, microwave, large refrigerator
Organic shade-grown coffee provided
Wood stove, central heat and air conditioning
High speed wireless internet
Ceiling mounted projector, screen and sound system
Tables and chairs to accommodate meetings of 40 people
Dinner service for 36 people
Small private away room with queen futon
Two fold-out love seats/twin beds in main room
Full bath with shower and access to additional half bath
Large deck with gas grill
Pool table, ping pong and Foosball in attached rec room
---
Rates*
Rates for two-night minimum, two person occupancy. $25 extra per person per night (one year and older)
See our Availability Calendar for open dates.
Rentals are limited to adults over the age of twenty-one. Guests under twenty-one years of age are welcome when accompanied by a parent or guardian.
SORRY, NO PETS
The Lodge
$175 per night for 2 people/$1100 per week
Maximum of 12 persons
Little Barn Cabin
$175 per night for 2 people/$1100 per week
Maximum 6 persons
Kinship Place Conference Facility
$200 full day use
$150 per night for 2 people/$950 per week
Maximum 4 people
Inquire about discounts for non-profits aligned with our mission
Reserve all three facilities for a week for exclusive use of kayaks, pool table and all other amenities.
$4000, maximum 20 people (call regarding capacity depending on number and ages of children)
*Rates subject to change.
Come join us at Nature Nooks Retreat and Kinship Place...
a beautiful place to simply be.
We bet you will enjoy your stay with us and return again in the future.